Post by on Feb 11, 2012 17:48:27 GMT -5
Emperor of the Serbs and Greeks. Dušan managed to conquer a large part of Southeast Europe, becoming one of the most powerful monarchs in his time. He enacted the constitution of the Serbian Empire in Dušan's Code, one of, if not the most important work of medieval Serbia. Dušan promoted the Serbian Church from an Archbishopric to a Patriarchate, finished the construction of the Visoki Deèani-monastery and UNESCO item.
Perhaps the greatest of all Serbian leaders, Dušan, along with his son Stefan Uroš V, was one of only two true emperors of Serbia. Under his rule Serbia reached its territorial peak and, as the Serbian Empire was one of the larger states in Europe at the time. Apart from significant territorial gains, in 1349 and 1354 he made and enforced Dušan's Code, a universal system of laws.
Grb Nemanjica
He was the eldest son of Stefan Uroš III Deèanski and Theodora of Bulgaria, the daughter of emperor Smilets of Bulgaria. Early in his life he visited Constantinople, where his father had been exiled, and he spent around seven years there (1314–1320). There he learned Greek, gained an understanding of Byzantine life and culture, and got a clear sense of the Byzantine Empire. He himself was more a soldier than a diplomat. In his youth he fought exceptionally in two battles; in 1329 he defeated the Bosnian ban Stjepan Kotromaniæ, and in 1330 the Bulgarian emperor Michael Asen III in the Battle of Velbužd.
Proclamation of Dushan's Code of Law, Skopje, 1346
In the first years of his reign, Dušan started to fight against the Byzantine Empire (1334), and warfare continued with interruptions of various duration until his death in 1355. Twice he became involved in larger conflicts with the Hungarians, but these battles were mostly defensive. Both times he defeated the Hungarians. He was at peace with the Bulgarians, who even helped him on several occasions, and he is said to have visited Ivan Alexander at his capital. Dušan exploited the civil war in the Byzantine Empire between regent Anna of Savoy for the minor Emperor John V Palaiologos and his father's general John Kantakouzenos.
Dušan and Ivan Alexander picked opposite sides in the conflict but remained at peace with each other, taking advantage of the Byzantine civil war to secure gains for themselves. Dušan's systematic offensive began in 1342 and in the end he conquered all Byzantine territories in the western Balkans as far as Kavala, except for the Peloponnesus and Thessaloniki, which he could not conquer because he had no fleet. There has been speculation that Dušan's ultimate goal was no less than to conquer Constantinople and replace the declining Byzantine Empire with a Greco-Serbian Empire under his control.
Emperor Dušan's Serbia ~ 1350 AD
A coin minted by Dušan in 1346 on the occasion of his coronation.
Faced with Dušan's aggression, the Byzantines sought allies in the Turks whom they brought into Europe for the first time. The first conflict between the Serbs and the Turks on Balkan soil, at Stefaniana in 1345, ended unfavourably for the Serbs. In 1348 Dušan conquered Thessaly and Epirus. Dušan eventually saw the danger posed by the Turkish presence in the Balkans and searched for ways to push them back but was interrupted by Hungarians, who attacked Serbia. He heavily defeated the Hungarians and their king Charles I of Hungary, who was wounded by an arrow. Dušan didn't want to organize revenge attacks in Hungary, because he wanted Papal support for his fight against the Ottomans. After, he fought with the Hungarian protégé ban Stjepan II in Bosnia in 1350, wishing to regain formerly lost Zahumlje.
Dušan had grand intentions but they were all cut short by his premature death on December 20, 1355, possibly from poisoning by Hungarians who were alarmed at the expansion and rising power of Stefan's Serbia. He was buried in his foundation, the Monastery of the Holy Archangels near Prizren. Today his remains are in the Church of Saint Mark in Belgrade. He was succeeded by his son Stefan Uroš V, who had been associated in power as king since 1346.
1322 Stephen/Stefan Uros III of Decani/Decanski is crowned King of Serbia.
Dušan's Code
Created 1349
Enacted by Stephen Uroš IV Dušan of Serbia, this code served as the Constitution of the Serbian Empire.
The Code was promulgated at a state council on May 21, 1349, in Skopje, the capital of the Serbian Empire. One of two the most significant cultural-historical monuments of medieval Serbia, accompanying St. Sava's Nomocanon. It was presented by Tsar Stefan Dušan in two state congresses: in 1349 in Skopje and in 1354 in Serres. The original manuscript is not preserved, but around twenty copies of transcripts, dating from 14th to 18th, century remain.
The code was based partly on common law, partly on old church law, and somewhat on Greek imperial laws, but in its essence it has predominantly autonomous character. It even has some elements of constitutional law, so it could be viewed as a kind of constitution. There are around 200 articles in the Code.
Wedding of Emperor Dušan, Paja Jovanoviæ
Tsar Stephan Dushan, fresco from Decani monastery, 1347.
Car Dušan, paint by Ðura Jakšiæ (1857),oil on canvas
.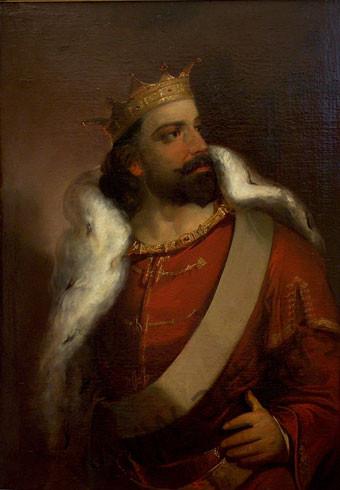 SERBIAN EMPIRE~AR Dinar c.1346 AD