Post by leandros nikon on Oct 13, 2007 8:04:26 GMT -5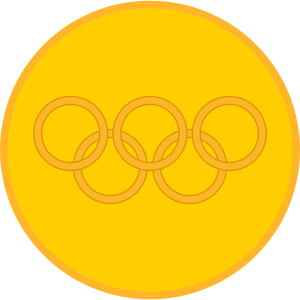 3.Athletes



GREEK OLYMPIC GAMES MEDALS
Year
City
Athletes
Medals
(gold, silver, bronze)
1896
Athens
230
46
(10, 19, 17)
1904
Saint Louis
20
4
(0, 3, 1)
1908
London
20
4
(0, 3, 1)
1912
Stockholm
29
2
(1, 0, 1)
1920
Antwerp
52
1
(0, 1, 0)
1956
Melbourne
13
1
(0, 0, 1)
1960
Tokyo
48
1
(1, 0, 0)
1968
Mexico
44
1
(0, 0, 1)
1972
Munich
59
2
(0, 2, 0)
1980
Moscow
41
3
(1, 0, 2)
1984
Los Angeles
61
2
(0, 1, 1)
1988
Seoul
58
1
(0, 0, 1)
1992
Barcelona
72
2
(2, 0, 0)
1996
Atlanta
121
8
(4, 4, 0)
2000
Sydney
155
13
(4, 6, 3)
2004
Athens
440 (223 m, 217 w)
16
(6,6,4)
-----------------------------------------------------------------------------------------------------------------------------------
FROM WIKIPEDIA.
The following list is not complete...i remember the golden olympic medal of Stelios Migiakis in Moscow olympics,1980.Also,i dont see the golden medals of Melisanidis and the bronze of Piros Demas.There might be more missing names...Olympic gold medalists for Greece
A
Nikolaos Andriakopoulos
B
Thomas Bimis
C
Constantine II of Greece
D
Pyrros Dimas
G
Nikolaos Georgantas
Ioannis Georgiadis
H
Fani Halkia
I
Ilias Iliadis
K
Kakhi Kakhiashvili
Nikolaos Kaklamanakis
Perikles Kakousis
Pantelis Karasevdas
Konstantinos Kenteris
Aristidis Konstantinidis
L
Spiridon Louis
M
Ioannis Malokinis
Ioannis Mitropoulos
O
Georgios Orphanidis
P
Voula Patoulidou
Ioannis Phrangoudis
Leonidas Pyrgos
S
Nikolaos Siranidis
T
Dimosthenis Tampakos
Konstantinos Tsiklitiras
Athanasia Tsoumeleka
Olympic silver medalists for Greece
A
Joannis Andreou
Nikolaos Andriakopoulos
Sotirios Athanasopoulos
B
Niki Bakoyianni
C
Spiridon Chasapis
D
Hrysopiyi Devetzi
Michalis Dorizas
G
Nikolaos Georgantas
Miltiades Gouskos
K
Nikolaos Kaklamanakis
K cont.
Telemachos Karakalos
Dionysios Kasdaglis
Anastasia Kelesidou
Georgios Kolettis
M
Mirela Manjani
N
Alexandros Nikolaidis
Stamatios Nikolopoulos
O
Georgios Orphanidis
P
Panagiotis Paraskevopoulos
Demetrios Petrokokkinos
Pavlos Pavlidis
P cont.
Antonios Pepanos
Petros Persakis
Ioannis Phrangoudis
T
Dimosthenis Tampakos
Ekaterini Thanou
Alexandros Theofilakis
Ioannis Theofilakis
Konstantinos Tsiklitiras
Georgios Tsitas
V
Kharilaos Vasilakos
X
Thomas Xenakis
Olympic bronze medalists for Greece
C
Efstathios Chorophas
Stephanos Christopoulos
Ioannis Chrysafis
D
Evangelos Damaskos
Themistoklis Diakidis
Dimitrios Drivas
G
Nikolaos Georgantas
Dimitrios Golemis
K
Filippos Karvelas
K cont.
Artiom Kiouregkian
L
Dimitrios Loundras
M
Mirela Manjani
Ioannis Mitropoulos
Nikolaos Morakis
N
Alexandros Nikolopoulos
P
Georgios Papasideris
Konstantinos Paspatis
Petros Persakis
Ioannis Phrangoudis
P cont.
Perikles Pierrakos-Mavromichalis
R
Georgios Roubanis
S
Georgios Saridakis
Konstantin Spetsiotis
T
Ioannis Theodoropoulos
Nicolaos Trikupis
Konstantinos Tsiklitiras
V
Sotirios Versis
-----------------------------------------------------------------------------------------------------------------------------------------
but here's a much better list...
en.wikipedia.org/wiki/Category:Greece_at_the_Olympics
-----------------------------------------------------------------------------------------------------------------------------------------
en.wikipedia.org/wiki/Olympic_Hymn
The
Olympic Hymn
(Olympiakós Ýmnos), also known informally as the Olympic Anthem, is a choral cantata by opera composer
Spyridon Samaras
, with lyrics by Greek poet
Kostis Palamas
.The anthem was performed for the first time for the ceremony of opening of the first edition at the 1896 Summer Olympics in Athens, Greece. Both poet and composer were the choice of the Greek
Demetrius Vikelas
, who was the first President of the International Olympic Committee.The anthem by Samaras and Palamas was declared the official Olympic Anthem by the International Olympic Committee in 1958 at the 54th Session of the IOC in Tokyo, Japan.
Since 1960, it has been used at the opening ceremonies of each Olympic Games, and also during its closing ceremonies as well.