Post by Emperor AAdmin on Nov 15, 2019 10:13:06 GMT -5
I will keep it locked but feel free to write your comment here

I hope you don't mind that I posted your message to me here as it seems to belong in this thread.
Of course feel free to add here.
Enjoy the forum and welcome. Hello Emperor AAdmin,
I recently read the following thread,
illyria.proboards.com/thread/31793/greek-albanian-national-costume
. I would like to make a reply to two quotes i read but the thread is now locked. Can you allow me to make these following replies and then lock it again?
Namely to this one by
atdhetari
,
illyria.proboards.com/post/271151/thread
.
My Reply
: "Αυλών" (Vlorë) and "Λισσός" (Lezhë), among dozens of others you didn't mention, were founded by Greeks, NOT by Romans. And they continued to be inhabited by Greeks even after the Roman conquest. You should also take note that Romans didn't enforce their language or customs on civilized Greeks as they did with the barbarians, actually the opposite happened. It's like the Roman lyric poet Horace described, "
Captive Greece took captive her savage conqueror and brought the arts to rustic Latium
". Therefore the Greek way of life and language didn't only continue but were empowered through their adoption by the Roman Empire. If you want to get a general idea of the extent of Greek-speaking presence in the broader area, have a look at these two following maps.
Furthermore, what you write about Italy is a joke. Italy has been claiming Albania for its own sphere of influence even before Albania was officially created in 1912. Just look at the role of the Kingdom of Italy (and the Austro-Hungarian Empire i might add) in the formation of the Albanian State, or the role of Fascist Italy (1922–1943), or even today by claiming joint NATO air patrols over Albania (because it doesn't have an Air Force) with Greece (understandably so). Same duet for Montenegro by the way. Actually Italy isn't only interested in Albania, but the broader Adriatic in general.
Namely to this one by
rex362
,
illyria.proboards.com/post/271225/thread
.
My Reply
: This is actually a miniature painted bust by artist Danilo Cartacci. Nonetheless it represents the Greek Souliote resident "Γεωργιος 'Γεωργάκης' Δήμου Δράκος" (Georgios 'Georgakis' Dimou Drakos). Souli was a Greco-Arvanitic speaking community, which is to say bilingual in Greek and Arvanitic (Greco-Albanian dialect - i can expand on this).
This is "Δημήτριος Μακρής" (Dimitrios Makris). A Greek Klepht and Armatolos from Aetolia-Acarnania. One of the countless in the regions of Valtos and Agrafa, which were exclusively Greek-speaking.
This is a painting of 1856 by Greek artist "Θεόδωρος Βρυζάκης" (Theodoros Vryzakis), showing Greek freedom fighters, most probably Klephts.
This is a lithography by Bavarian philhellene Karl Krazeisen of "Νικήτας 'Νικηταράς' Σταματελόπουλος" (Nikitas 'Nikitaras' Stamatelopoulos), a Greek revolutionary from Messenia.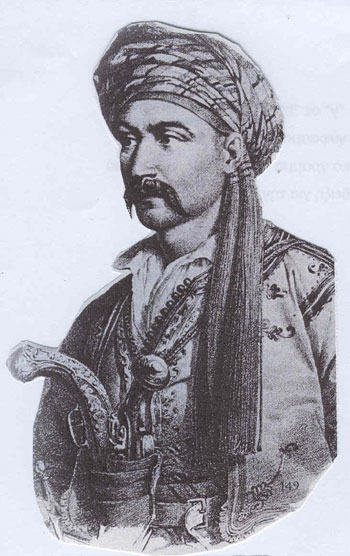 This is a painting by Greek artist "Διονύσιος Τσόκος" (Dionysios Tsokos), showing the death of "Μάρκος Μπότσαρης" (Markos Botsaris), who was the captain of the Greco-Arvanitic-speaking Souliotes.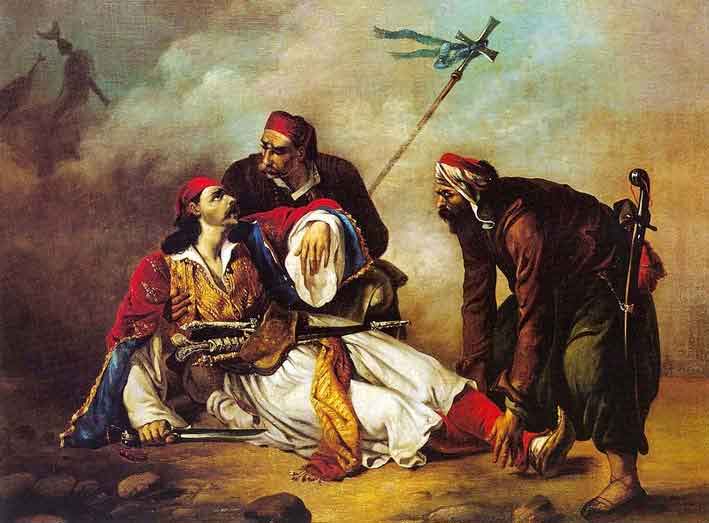 This is a painting by Greek artist "Διονύσιος Τσόκος" (Dionysios Tsokos), simply designated as "Ο αποχαιρετισμός του καπετάνιου" (The Captain's Farewell). Certainly a Greek.
This is an altered version of an original lithography by Bavarian philhellene Karl Krazeisen of Greek general "Θεόδωρος Κολοκοτρώνης" (Theodoros Kolokotronis). "Θεόδωρος Κολοκοτρώνης" (Theodoros Kolokotronis) was of Greek descent and totally Greek-speaking. I advise you read or listen to his recorded "απομνημονεύματα" (memoirs) where he explains his Greek family's background and in general his story.
I would have probably commented on more of the images you shared, but some are either blurred (copyrighted) or deleted (and don't appear). And i would of course have provided many other depictions of Greeks (famous and ignored likewise) wearing their national costume of fustanella. I simply took the time to reply specifically to this because it has many inaccuracies.