Post by hellboy87 on Dec 11, 2009 22:35:42 GMT -5
...all its physical glory
An Athens exhibition looks unflinchingly at classical perceptions of love and lust
Helena Smith in Athens
Wednesday 9 December 2009 22.29 GMT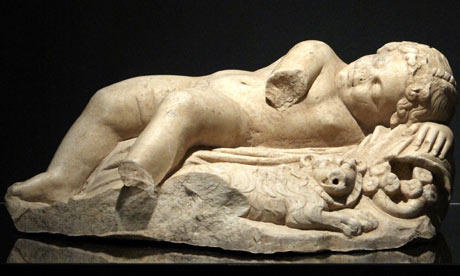 A marble statuette of a sleeping Eros and a lion next to him on display at the Cycladic Art museum in Athens. Photograph: Yiorgos Karahalis/Reuters
The ancient Greeks were never at a loss for words when it came to love and lust – and an exhibition that opened in Athens today laying bare the practice of sex in classical times through an unprecedented collection of eye-popping art partly explains why.
Eros, the god of love and the great loosener of limbs, was many things: irresistible, tender, beautiful, excruciating, maddening, merciless and bittersweet. There was no position, no touch, no predilection too outre to pay homage to him. From the affectionate embrace to group sex, love came in many forms.
"The Greeks were anything but prudes," said Nicholaos Stampolidis, director of the Museum of Cycladic Art, where the show will run for six months. "Theirs was a society of great tolerance and lack of guilt."
Standing before a giant marble phallus that once graced the facade of an ancient Greek home, he added: "It had what I call balance."
By amassing some 272 objets d'art, including masterpieces from more than 50 international museums which date from the 6th century BC to the 4th century AD, Stampolidis has pulled off the impressive feat of telling the story of love in antiquity.
"The concept of Eros – love – was very broad in ancient times," the archaeologist said. "Sexual desire was, of course, a component but it was also a unifying force that encompassed the desire for anyone or indeed anything."
Accordingly, the exhibition has sought to survey the changing perceptions of Eros from the 8th century BC, when he is seen as a powerful god, to Roman times when, less potent, under the name of Cupid he becomes a mere companion to Venus.
"It wasn't an easy task," said the professor, who spent three and a half years thinking about love as he organised the show. "It's easy to write about love in either poetry or prose. It's much more difficult to represent it visually."
With the help of, among other things, a peerless collection of phallic lamps, graphic cameos, erotic figures and love letters engraved in clay, the academic devised the idea of dividing the exhibition into nine sections. Inspired by the nine muses or goddesses of literature and the arts, the show covers the love affairs and weddings of gods and heroes, mortals, the birth of Eros, his upbringing by Aphrodite, famous love affairs, homoerotic love, prostitution, and erotic symbols.
"The aim of the exhibition is not to shock," he said. "We have not been hypocritical."
But shock is what most preview spectators felt . For Aphrodite and Eros are also cruel gods. In room after room, viewers are confronted with the dual nature of love through the depiction in various guises of the goddess Psyche, the soul, tormented by Eros.
In one cameo, Eros drags the long-suffering Psyche by the hair and hits her with a mallet. In a clay fragment he holds a fishing rod and catches her in the form of a butterfly. In another, Eros holds a torch, a symbol of love that sets the heart on fire and, said Stampolidis, "can also burn the soul".
And that is before viewers get to the top floor of the exhibition, where children under 16 are warned not to enter "unattended".
There in three rooms reserved for artistic renditions of sexual congress, pederasty (socially accepted in ancient times), homoerotic love, and the quaintly named "bucolic love affair", viewers are bombarded with what the ancients were clearly good at: being bawdy. From scenes of anal copulation to mutual oral sex, to lucky charms of giant phalluses and engravings of frenzied sex with the half-man, half beast satyrs and silens, Eros is depicted in all its glory.
"I delight in the prime of a boy at 12," one scribe declares in a text highlighted on a wall. "One of 13 is much more desirable. He who is 14 is a still sweeter flower of the lovers. And one who is just beginning his 15th year is yet more delightful. The 16th year is that of the gods. And as for the 17th, it is not for me but for Zeus to seek it."
Aristophanes, the 5th century BC comic, who embraced the obscene, devising 106 ways of describing the male genitals and 91 those of the female, would not have been disappointed.
"We felt it prudent for children under the age of 16 to be warned," said the professor. "By the age of 16 they've heard about everything that they see here and read about it in magazines or on the internet."
Eros through the ages
Eros is the Greek god of love and fertility. In early mythology, Eros is a primeval god, born of Chaos. It was Eros who brought together Uranus, sky, and Gaia, earth, the original father and mother. In later traditions, Eros is the son of Aphrodite, the goddess of sexual love and beauty. Some myths say that Eros's father was Ares, god of war, but others say he is the son of Zeus, king of the gods, or Hermes, divine messenger.
In earlier art and literature, Eros was depicted as a strong, athletic, young man. However, he was gradually portrayed as younger and younger, until in Hellenistic times, he was being portrayed as a child or baby, with wings, and a bow and arrow. If Eros shot someone they would fall in love.
In some myths, Eros himself fell in love with a beautiful mortal woman, Psyche. He forbade Psyche to see him and when one day she lit a torch to view him while he was asleep he fled in anger. In Roman mythology, Eros is known as Cupid.
Lauren Goodchild
hee heeeee ;D ;D ;D